Posted by Dave on June 12, 2013
Last night, the good people from Osprey came out to let our Tuesday gang demo some bags.  I haven't personally ridden any Osprey packs yet – gotta say I was pretty impressed after spending a night with the mid sized Raptor 10 pack.
Let's check out some cool features of the pack.
One of my favorite features is the integrated tool roll.  You can leave it in the pack or take it out.  Holds a bunch o stuff.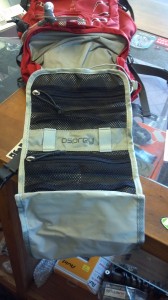 I also like that the bladder hose integrates into the shoulder strap.  No catching your hose on a branch and it looks super clean.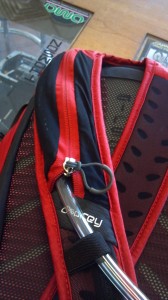 I've always been a big fan of pockets on the hip straps.  Great place for a camera or a slim multi tool.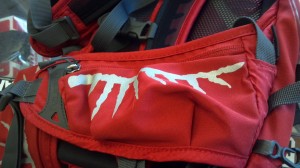 Great ventilation on the back of the bag, too.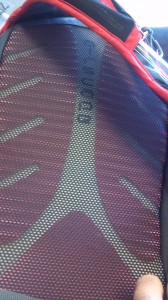 There were a few things I didn't like, but it's primarily because either the bag was too small, or I bring way too much stuff.  To use the pack, I evacuated all of the contents of my current 1600cc bag.  Not rocket science, but all of that stuff won't fit into a bag that's 600 smaller…  Anyway, I was able to stuff the Raptor 10 with 2 tubes, a shock pump, hand pump, couple CO2s and a cracker, some food, a raincoat, small medical kit, spare belt, full water bladder and a camera and mini tools.  After that, the bag was at capacity.  No extra room for a Dales or a burrito for those longer rides.  BUT, with all of that jam packed in the bag, it was very comfortable and set up very easy.  During our 2ish hour ride, nothing stuck out as being uncomfortable and I otherwise forgot about the bag.  Good stuff.  The only other thing I didn't like were the hip pockets.  I like their style and execution, but I would've prefered them to be farther to the front of the strap.  To access the hip pockets, I had to reach behind a little and it wasn't that easy.  The hip pockets also hit right on my rear jersey pockets.
I guess that's it.  Loved the bag really.  We'll be stocking Raptor 10 and 14 bags, as well as some Raven (female version) and Vipers.  Come on in and check them out.